The Fragiles
Barbara Kapusta
30. Sep–26. Nov 2023 Opening 29 Sept 2023, 17:00 18:00 Performances by Armin Lorenz Gerold, Steph Holl-Trieu and Barbara Kapusta

Barbara Kapusta's installation The Fragiles unfolds a science fiction narrative that reports from an apocalyptic future and at the same time raises the question of how coexistence can be organized in the face of multiple crises. Circling sound winds around a sculpture, which is reminiscent of technical structures like technoid beings. Historical and fictional stories interweave to tell of loss and friendship, labor and love. They mediate narratives inside and outside the walls of the Klosterruine and speak of political oppression, social grievances, and the search for solidarity and liberation.
Performances on 29 Sept 2023, 18:00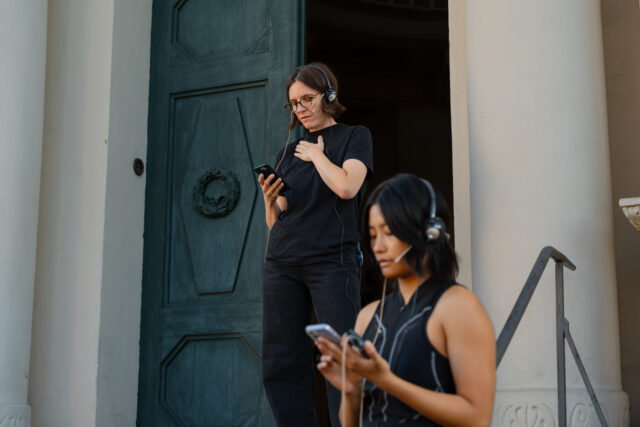 Barbara Kapusta and Steph Holl-Trieu: Strangers, Neighbors and Lovers Alike
Performative tour
The past weighs heavily on the present. In their performative tour, Barbara Kapusta and Steph Holl-Trieu narratively link historical events, fictional stories, and speculations about future conditions. Thereby the Klosterruine and its surroundings become a projection screen to trace today's aspirations for love – a love that resists private ownership and political repression, a love that holds community together.
Steph Holl-Trieu is an artist and writer based in Berlin and Vienna. Artist Barbara Kapusta lives in Vienna. Strangers, Neighbours and Lovers Alike is a continuation of their collaborative research on telling history through science-fiction and discourse as performative practice.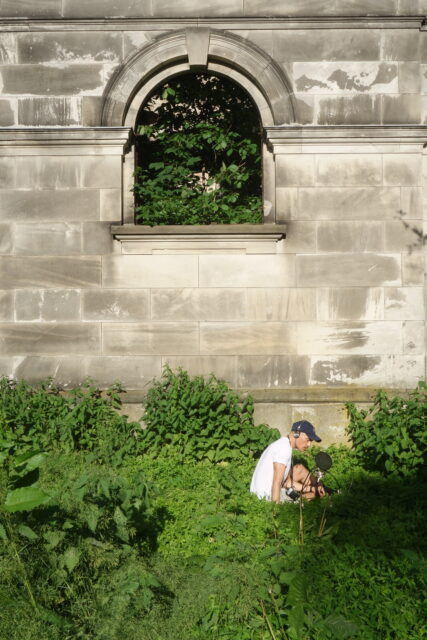 Armin Lorenz Gerold: Where did our love go?
Spoken word, sound
Armin Lorenz Gerold's performance involves the reading of new text material over ambient sound design. Focusing on his recent work on time and temporality, short story segments revolve around a hazy morning after hour in Berlin, when a seemingly innocent gaze out of the window suddenly turns into a meditation on time, labor and the constant re-shaping of urban landscapes. Referencing Warren Sonberts' 1966 film Amphetamine, a melody eventually emerges from the background, asking: Where did our love go?
Armin Lorenz Gerold is an artist and composer based in Berlin. Working across a multitude of media, Gerold primarily focuses on voice and sound, making audio plays, live-performances, broadcasts, and installations.